One of the greatest things about the Florida coast is our fantastic fishing. Whether you want to enjoy a morning of surf fishing on the beach or a day of offshore fishing, there are several great options for St. George Island fishing charters to choose from. Before you cast your line, make sure to check out our free Vacation Guide to St. George Island and Apalachicola Bay. We've included our top picks for restaurants, outdoor recreation, and other attractions on the Forgotten Coast. Request your free Vacation Guide, and start planning your vacation now! 
Everything You Need to Know About St. George Island Fishing
Types of Fish on the FL Coast
Fishing in Florida is some of the best you'll experience in the country! With so many different types of fish, like Spanish mackerel, flounder, speckled trout, redfish, and sharks, and so many incredible fishing spots on the clear or emerald waters of the Gulf of Mexico, there's no doubt you'll have a great time. 
Where to Fish on St. George Island
The best fishing spots on the St. George Island and Apalachicola Bay area are the Julian G. Bruce St. George Island State Park, Unit Four Beach, and Old Carrabelle Beach. 
St. George Island State Park
They each have unique traits to help make your fishing adventure unforgettable. St. George Island State Park Beach takes the crown for the best shore fishing in the area. 
East End Fishing Beach
Between St. George Island and Dog Island is the most productive fishing spot with deep currents and large schools of fish. It's called East End Fishing Beach, and you can only use the beach for fishing. 
Forgotten Coast Fishing Piers
Do you enjoy the thrill of casting your line from high up on a fishing pier? Two great options are directly across from each other between Apalachicola Bay and Saint George Sound. These two fantastic fishing piers are the Eastpoint Fishing Pier and the St. George Island Fishing Pier. 
Unit Four Beach
Looking for the best combination of shallow oyster bars and good shore fishing? We recommend you cast a line at Unit Four Beach on East 6th Street! 
Old Carrabelle Beach
Need some peaceful scenery during your fishing trips? Old Carrabelle Beach is the spot to go to! Cast a line, and gaze out at the acres of beautiful grass beds as a backdrop to the perfect fishing day. 
Cruise Around with St. George Island Fishing Charters and Boat Tours
With Florida being probably the most ideal destination for the perfect fishing experience, it's no wonder there's such a large selection of fishing opportunities around the island. When you're ready to take on the big blue, you can try your hand at offshore fishing with the best SGI fishing charters! 
You can choose from several different fishing charter options like inshore fishing, offshore fishing, or deep-sea fishing. And, if you just want to relax and take in the most breathtaking Gulf views, you can try boat tours, including dolphin encounters and sunset tours! 
Where to Cook Your Catch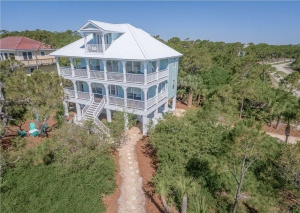 When it's time to cook your catch, head to your St. George Island Vacation Rental for the ultimate fish dinner! Our fully equipped kitchens make it easy to spend time with your family and friends as you cook and eat after a day of hard work and play! Check our availability and book a St. George Island fishing trip today. 
https://st-george-blog.nyc3.digitaloceanspaces.com/st-george-island-guide/st-george-scuttlebutt-blog/wp-content/uploads/2021/08/30150148/resort-vacation-hero-image-7.png
2520
4480
Kyu Myoung
https://www.resortvacationproperties.com/st-george-island-guide/st-george-scuttlebutt-blog/wp-content/uploads/2016/02/logo_final-300x140.png
Kyu Myoung
2021-04-30 13:10:34
2021-08-25 13:36:07
St. George Island Fishing Tips to Help You Cast a Line