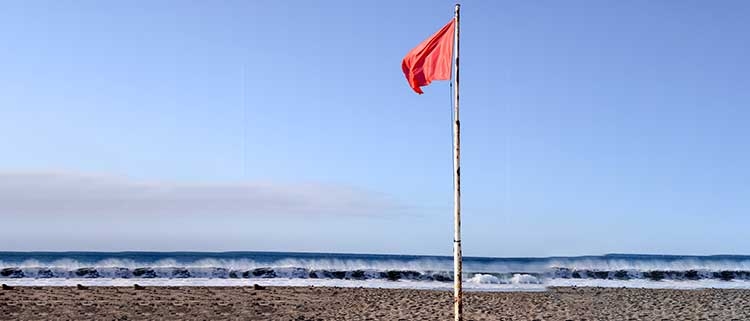 When you arrive on St. George Island, the one thing you can be sure of is that everyone wants you to have the best, most fulfilling vacation ever. From the shop owners to the park rangers and your fellow visitors, when we're all happy, life is wonderful.
And nothing can turn a good day bad like trouble. Just like traffic officers enforce the rules to ensure safe passage on area roads, beach officials use a flag system to communicate the levels of safety, and danger, that exist in the Gulf of Mexico. After all, the safety and enjoyment of our public beaches are affected by changes in tide and surf conditions.
The warning flag system was developed by the United States Lifesaving Association, in conjunction with the International Lifesaving Federation to be an easy-to-understand guide to possible water hazards. The flags come in multiple colors: red, double red, yellow, green and purple.
Red flags are the most serious of the beach warnings and warn beachgoers of severe hazards in the water. A single red flag indicates the surf is high, there are dangerous currents in the water, or both. It's still possible to swim under red flag conditions, but swimmers are expected to use extreme caution. A double red flag means that the water is closed to swimming due to conditions too dangerous for any swimmer.
Yellow flags indicate rough, but not life-threatening, conditions requiring caution. It means there's the potential for high surf and dangerous currents and/or undertow. Swimmers in the water under a yellow flag should only swim near lifeguards and be mindful of their instructions.
Purple flags are specifically related to dangerous marine life, such as sharks, jellyfish and other creatures. It's possible the purple flags can be flown along with another colored flag, and they are only put in place when dangerous sea life has been spotted. A purple flag does not mean the water is closed to swimming, but anyone entering the water should use caution and be on the lookout for dangerous sea life.
Green flags are our favorite, because they indicate conditions are clear. But it's important to remember the environment can change quickly, so make sure you keep an eye on children, heed lifeguard instructions, and use general caution at all times.
Want an easy way to check the current water conditions before you head to the beach? Check out our Live Beach Cam, and the Current Weather Conditions!
https://st-george-blog.nyc3.digitaloceanspaces.com/st-george-island-guide/st-george-scuttlebutt-blog/wp-content/uploads/2019/01/02031812/st-george-island-red-flag-safety.jpg
321
750
Ryan Miller
https://www.resortvacationproperties.com/st-george-island-guide/st-george-scuttlebutt-blog/wp-content/uploads/2016/02/logo_final-300x140.png
Ryan Miller
2019-01-03 07:50:28
2019-03-28 14:49:23
Beach Flag Safety