Easter on St. George Island: Décor and New Traditions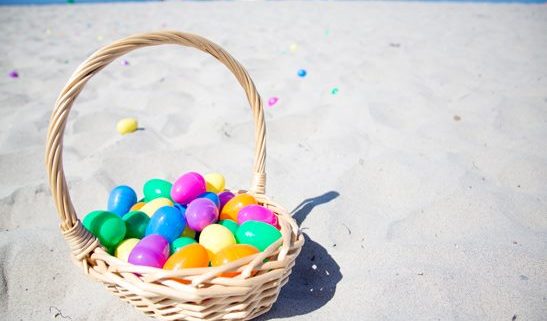 Although we're now well past the official beginning of Spring, in many minds, the true marker of the spring season is Easter. As well it should be—Easter is a holiday of resurrection. And what better way to time a beach trip than the season of rebirth.  When nature wakes from her slumber, and the beaches come alive with wildlife and the bounty of the sea. If you're lucky enough to find yourself for Easter on St. George Island, keep in mind that treasures from the Gulf.  With their natural, subtle, and sometimes rugged beauty, they lend themselves for use in Easter décor and new traditions. Here are our tips for a beach-approved holiday!
Sand Dollar Theme:
One of the best decorations from the sea are sand dollars, which bear uniquely Christian symbolism. On the top of a sand dollar is a clearly visible star, which represents the Star of Bethlehem, while the opposite side shows the outline of an Easter lily. At the edges of the star are four holes, representing the wounds Jesus suffered while being nailed to the cross, and in the center is another hole, which represents the sword wound to his side. Lastly, when a sand dollar is broken open, five "doves" emerge – the doves of the peace. All of this imagery makes them the perfect addition to your Easter décor! Try scattering them down the center of your dinner table, especially on top of a pastel table runner.
Sky Blue Colors:
To continue the oceanic theme in your tablescape, incorporate the colors of the season and of the beach. Hints of sea and sky blue bring the outdoors in, as do lime green Easter grass or air ferns, and woven, natural-colored grass placemats that resemble sea grass subtly continue the theme. An easy centerpiece can be made by placing a pillar candle in a clear bowl and filling the rest with sand and treasures from seashell hunting. Or, line an Easter basket with raffia or neutral Easter grass and fill with beautiful natural seashells or sand dollars.
Easter Shell Hunt:
A fun way to "beach up" your Easter is to ditch the eggs and have an Easter shell hunt instead. Hide shells for children to search, with a large sand dollar as the prize-winning find. Instead of baskets, use sand buckets lined with Easter grass. And, if you can't bear to part with eggs completely, paint a fish scale design or your favorite ocean creatures, like seahorses, starfish, or crabs, on traditionally dyed eggs.
https://st-george-blog.nyc3.digitaloceanspaces.com/st-george-island-guide/st-george-scuttlebutt-blog/wp-content/uploads/2017/03/02035314/Masonboro-Island-Easter-Egg-Hunt.jpg
365
547
AMG
https://www.resortvacationproperties.com/st-george-island-guide/st-george-scuttlebutt-blog/wp-content/uploads/2016/02/logo_final-300x140.png
AMG
2017-04-14 14:54:48
2017-07-29 15:48:00
Easter on St. George Island: Décor and New Traditions