Guest Spotlight: Sea Turtles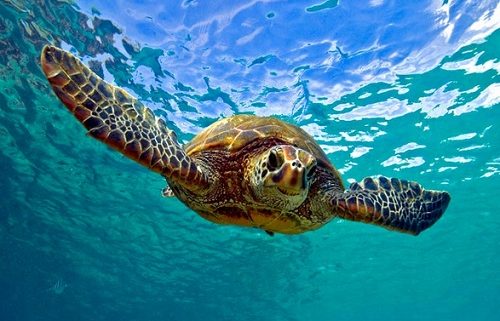 At Resort Vacation Properties, we're all about accommodating our visitors with the comfiest homes and best beach and bay views on the Island! But, there's one Forgotten Coast inhabitant that has a home far too small for guests—the sea turtle!
Turtles are one of the most revered and storied creatures in existence. Some groups of Native Americans believed that a turtle even carries the world upon its back. In cultures from other parts of the world, they can represent luck, endurance, and long life. Here on the Forgotten Coast, where many come to nest, we don't have a particular mythology for them, but they are among our favorite guests. To help you get to know these fascinating creatures, we've compiled a list of little-known facts about our friends from the sea!
They're travelers—and homebodies, too
Sea turtles can travel over 20 miles a day! Their greatest migration, though, is to home—some travel up to 1,400 miles to lay their eggs on the same shores where they hatched.
They navigate using the earth's magnetic field (maybe)
Sea turtles can detect both the angle and intensity of the earth's magnetic field. A new theory suggests that they use this ability to navigate, which is how they find their way back to where they hatched after years of being away.
Their sex is determined by outside factors
Unlike most creatures, their sex isn't determined by genetics, but by outside factors—namely, the temperature of the sand outside of their nest. Warmer temperatures lead to mostly females, while cooler weather typically yields males.
They're team players
Because it's almost impossible for the hatchlings to make it out of the nest on their own, the hatching of one triggers the hatching of the rest. Even with all of the babies working together, it can take up to a week to dig out of their nests!
They're night owls
When the babies finally make their grand entrance, it's in the dark. They emerge at night and follow the light, which traditionally leads them to the water. Development along beaches has altered this, however, and oftentimes the lights from houses confuse the hatchlings. That's why it's important to turn off outdoor lights during nesting season!
They breathe air
Sea turtles are most often associated with their underwater adventures, but they actually breathe air! They're champs at holding their breath—they can last 4-7 hours when they're sleeping or relaxing! However, during physical activity, it's a paltry 2-3 hours at best.
They can be geriatrics
A healthy sea turtle can live to be about 80, with some even surviving to be over 100! That means some of these incredible creatures even manage to outlive the human researchers studying them.
Unfortunately, our sea turtle friends are endangered. To keep the sea turtle population in existence, there are various laws in place to protect them. If you're lucky enough to witness a hatching, leave the hatchlings alone and avoid using flash photography or any light. It's important for them to find the ocean on their own, and, as they follow the moonlight to the ocean, other light will disorient them.
https://st-george-blog.nyc3.digitaloceanspaces.com/st-george-island-guide/st-george-scuttlebutt-blog/wp-content/uploads/2017/03/02035318/Green-Sea-Turtle.jpg
331
500
AMG
https://www.resortvacationproperties.com/st-george-island-guide/st-george-scuttlebutt-blog/wp-content/uploads/2016/02/logo_final-300x140.png
AMG
2017-08-15 11:00:51
2017-11-16 09:58:58
Guest Spotlight: Sea Turtles