Shuckin' on St. George: Local tips for tackling everyone's favorite bivalve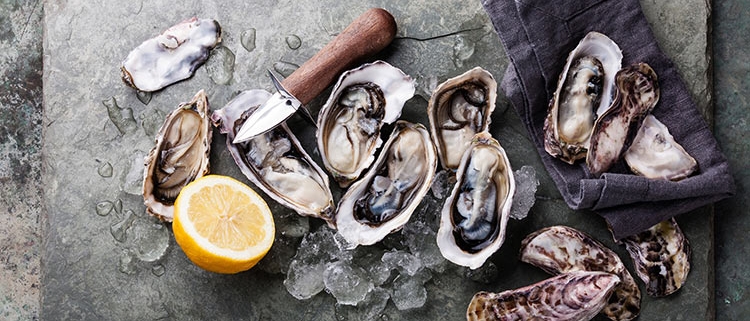 We hear it all the time, from locals and visitors alike: "Apalachicola Bay oysters are the best."
It's not an opinion to Forgotten Coast diners — and those around the country, for that matter — it's a fact. Compared to the bivalve competition, the award-winning oysters are cleaner and meatier, with a naturally mellow flavor that makes them the star of any dish or simply when they're served naked on the half shell.
Our oysters are so good they are the cornerstone of some of the coast's most successful restaurants and signature dishes. And they can be the rock stars of home kitchens everywhere, too. But if you're going to don the glove and pick up the knife, then you need to make sure your skills are on point.
No one wants to be accused of butchering an Apalachicola Bay oyster.
Folks staying on, or around, St. George Island can pick up a sack of fresh oysters at several different markets, including Lynn's, Best, Barber's, and Island View across the bay in Eastpoint, and Water Street, Royalty, 13 Mile, Leavins and Allen's in Apalachicola. Although market prices vary from season to season, on average a sack will contain between 12 to 14 dozen oysters and cost around $80.
Once you get the bounty back to your "shuckin' station," take a scrub brush and lightly scrub the shell of the oyster, just to remove any silt or sand to keep your presentation nice and clean. When it comes to gloves, we recommend one made of chain mail or another substance that's puncture-proof should a slip occur. And use a good, sharp oyster knife, if you have one. If not, a paring knife will do, as long as it's sturdy.
Here's what you need to know about oyster anatomy. The bivalves have two specific shell halves, attached with a hinge. One is curved like a cup, and the other forms the flatter lid. On a hard surface, like a cutting board, you want to open them lid side up.
Gently slip the blade into the hinge, and wiggle it back and forth until you feel it open a little. Then slide the blade along the lid's ceiling, which will disconnect the oyster's abductor muscle and allow you to remove the lid. Then carefully move to the underside of the muscle to separate it from the cup side of the shell, leaving the oyster free-floating in its own juices. Clean off any pieces of broken shell, place it on a tray or serving dish and then repeat.
Beginners should be able to move through a dozen in about half an hour, but you can easily shave serious time off with practice. And if you're serving them on the half shell, traditional garnishes include lemon wedges, horseradish, cocktail sauce, hot sauce, and saltines. But if you've gotten this far with your pride and reputation intact, serve them however you want!
And so you know the company you're in as a successful shucker here on the Florida Panhandle, Panama City's Honor Allen was the U.S. Oyster Shucking Champion in 2016 and 2017, shucking two dozen oysters in an average of two minutes at the national championship in St. Mary's County, Maryland. In 2018, Allen placed 5th in the World Oyster Opening Championship in Galway, Ireland.
And while it's not necessary to be the world's best, with the right skills and amazing Apalachicola Bay oysters, you can be the best on your block in no time.
https://st-george-blog.nyc3.digitaloceanspaces.com/st-george-island-guide/st-george-scuttlebutt-blog/wp-content/uploads/2018/12/02032035/Shucked-Oysters.jpg
500
750
Ryan Miller
https://www.resortvacationproperties.com/st-george-island-guide/st-george-scuttlebutt-blog/wp-content/uploads/2016/02/logo_final-300x140.png
Ryan Miller
2018-12-11 15:10:27
2018-12-29 15:13:11
Shuckin' on St. George: Local tips for tackling everyone's favorite bivalve