Spotlight on the Franklin County Humane Society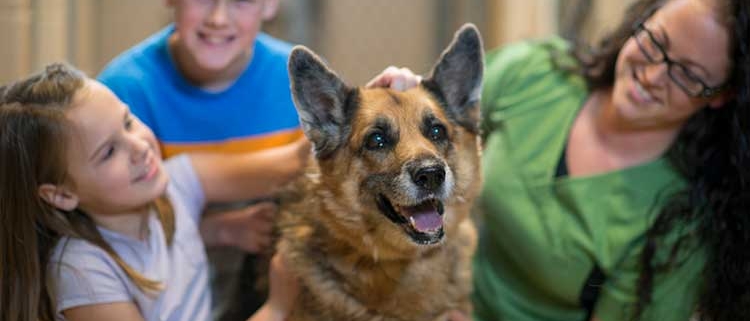 One of the most beloved organizations in all of the Forgotten Coast protects and cares for the area's many homeless and unwanted pets. The Franklin County Humane Society's shelter was founded in 1991 and is located near the Tate's Hell National Forest, just northeast of St. George Island. It was created through the efforts of veterinarian Dr. Hobson Fulmer so that the county "could have a facility that could better the lives of our many homeless animals."
It is a non-profit entity that exists to combat the rising trend of animals being euthanized every year. According to the American Humane Association, 56 percent of all dogs and 76 percent of all cats — 10 million in total — are euthanized each year. So, the Franklin County Humane Society provides safe-haven, medical care, food, and loving attention for the pets until adoption, in the hopes of relieving animal suffering, preventing animal cruelty, eliminating animal overpopulation, promoting humane education, and enhancing the human-to-animal bond.
Before adoption, animals are spayed or neutered and given proper vaccinations, and for a nominal fee, families can take them to their forever homes and love them for years to come. After Hurricane Michael, four vans arrived from the Tampa area with volunteers from the SPCA Tampa Bay and Pinellas Humane Society to transfer all 35 cats and 14 dogs the shelter was housing at the time. The round trip took them 16 hours due to road closures, and the shelter was back up and running just six days after Michael's landfall.
The Franklin County Humane Society is supported by events and other organizations throughout the community. During Mardi Gras each year, the Mystic Krewe of Salty Barkers donates funds raised from its Barkus Parade. And in 2018, it was estimated that several thousand people and their pets came to Riverfront Park in Apalachicola to celebrate with the Krewe.
And every year on St. George Island — where the beaches and many businesses are pet friendly — the SGI Brewfest is put on by a committee of caring island residents with the support of more than 40 breweries and sponsorship by Resort Vacation Properties. All proceeds from the festival go to the Franklin County Humane Society, and the 2018 event raised $33,000.
For more about the Franklin County Humane Society, visit Forgottenpets.org.
https://st-george-blog.nyc3.digitaloceanspaces.com/st-george-island-guide/st-george-scuttlebutt-blog/wp-content/uploads/2019/04/02031757/Franklin-County-Humane-Society.jpg
501
750
Ryan Miller
https://www.resortvacationproperties.com/st-george-island-guide/st-george-scuttlebutt-blog/wp-content/uploads/2016/02/logo_final-300x140.png
Ryan Miller
2019-03-08 08:02:01
2019-04-11 08:04:27
Spotlight on the Franklin County Humane Society