Choose One of These Stunning St. George Island Wedding Venues for Your Destination Wedding

Dreaming of a destination wedding with white sandy beaches, crystal-clear waters, and bright blue sunny skies? Look no further than St. George Island! Our island off North Florida's Gulf Coast is the perfect spot for your dream beach wedding. These picture-perfect St. George Island wedding venues will have you daydreaming right up until your special day!
Say "I do!" to one of these stunning St. George Island wedding venues. Then,  start looking for the perfect St. George Island vacation home for your wedding party, family, and friends to stay at!

6 of the Most Romantic St. George Island Wedding Venues
Your St. George Island Wedding Venue Checklist
Your wedding date will come sooner than you think! Start planning your St. George Island wedding with this helpful checklist.
Start planning early! Florida is a popular destination for weddings, especially on the beach. You should start your planning at least a year in advance. This will give your guests plenty of time to make travel plans as well!
Set a date. The best thing about St. George Island is that the weather is beautiful all year long. Wedding season in Florida lasts from October to May. Many couples avoid outdoor weddings from June through September because of the blistering heat.
Determine the size you'd like. You may be dreaming of an elopement or vow renewal with just you and your special someone in front of a beautiful beach landscape. Maybe you'd like a small ceremony as the sun slowly sets behind you. Maybe you're thinking about a medium or large-sized ceremony and a reception at a local venue. No matter what type of wedding you have in mind, it may be helpful to turn to a local St. George Island wedding planner to make your dreams come true!
Plan where your wedding party will stay. If your wedding includes travel for the wedding party and guests, you'll have to let your guests know if they'll be making their own arrangements or you'll be hosting them at a vacation rental property. You'll have to book accommodations well in advance, so you'll need a list of definite yeses and sort out the maybes to determine how much room you'll need.
Pick your venue and/or reception hall. George Island is known for its serene ocean views, making it a popular beach destination wedding venue. There are also other wedding venue choices including traditional options like churches and unique options across the bay in Apalachicola.
Get your marriage license. You need a Florida marriage license to get married anywhere on St. George Island. You can get your marriage license at the Franklin County Court with both parties present, valid photo IDs, your Social Security numbers, and the marriage license fee. After both parties read the "Family Law Handbook," there is no waiting period for out-of-state residents.
Start planning your ceremony! Now that some of the most important decisions are made, you can peruse through local wedding and event businesses to pick everything you need from flowers to food!
The Most Beautiful St. George Island Wedding Venues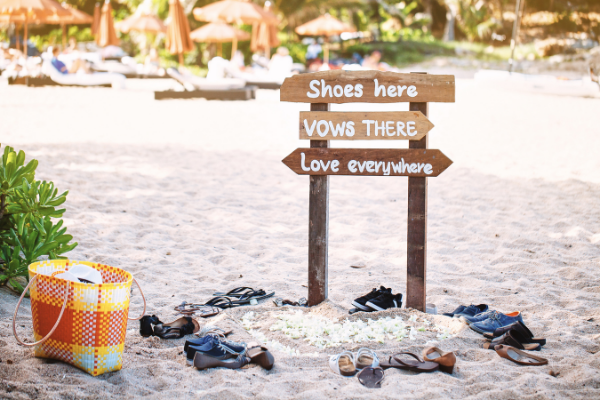 Whether you're looking to elope or invite everyone you know, St. George Island has some of the most breathtaking Gulf of Mexico views for you and your guests to enjoy!
St. George Island Public Beach
St. George Island boasts 22-miles of pristine white, sandy beaches for you to pick from! The pavilions are booked on a first-come, first-serve basis, in the center of the island, so we recommend planning your ceremony to take place nearby.
The Cape St. George Lighthouse
If you're dreaming of an intimate ceremony, the Cape St. George Lighthouse's Lantern Room is an excellent choice. With panoramic views of the Gulf Coast, this small space is available for private events when it's not open to the public. You can comfortably accommodate 10 of your closest family members and friends with standing room only. The Keeper's House porch may also be used as part of the ceremony. You can also rent the surrounding park for your special day!
The Cape St. George Lighthouse Public Park
If you're interested in a unique setting, the picturesque St. George Lighthouse Public Park provides a beautiful backdrop for a wedding ceremony! The county park can't be reserved, so it may be best to plan your ceremony during a less busy time of the year. There are two beachfront pavilions, available on a first-come, first-served basis and can't be reserved. However, there are parts of the park that are available for chairs and small tents when coordinated with the Lighthouse Association.
St. George Island State Park
With nine miles of undeveloped white sand beach, why not take advantage of the tranquil views that St. George Island State Park offers? Guests will love the park's natural setting and stunning views. If you're interested in using the large, open gazebo for the reception afterward contact the park directly.
Apalachicola Waterfront Wedding Venues
An Apalachicola wedding venue provides a beautiful waterfront backdrop without the mess of sand. The great thing about staying in a St. George Island vacation home is that your guests can take in all the island has to offer and then venture across the Big Bend Scenic Byway Coastal Trail when wedding bells start to chime!
Riverfront Park
Riverfront Park offers a scenic backdrop for your guests to ooh and awe over. Picture you and your loved one saying "I do!" in front of a waterfall fountain while shrimp boats are docked along the Apalachicola River.
Lafayette Park
In the center of the historic home district, Lafayette Park offers a lush landscape, a large pavilion for weddings, picnic tables, and a long fishing pier that juts out into Apalachicola Bay. It's a perfect location for weddings that spill over into the night. You can dance the night away under the large, lighted gazebo and take a moment to stargaze when your feet begin to tire.
Start Planning Your St. George Island Destination Wedding on the Forgotten Coast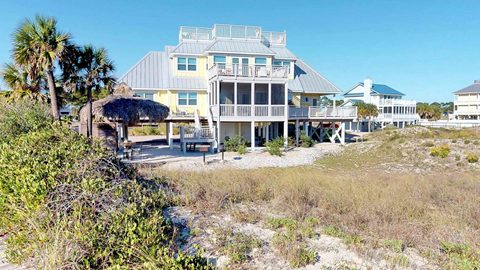 It's time to start talking to one of our Group Event Coordinators to find the perfect location for your destination wedding! We have extra spacious  St. George Island rentals with comfortable, relaxing atmospheres that are perfect for entertaining your guests. Even better, our rentals are close to all the island's finest attractions. We even have homes located within close proximity to one another if you'd rather spread your wedding party out.
Start planning your destination wedding with our helpful guide to St. George Island wedding venues and be sure to check our availability now so you'll have the perfect vacation home for your wedding party!
https://st-george-blog.nyc3.digitaloceanspaces.com/st-george-island-guide/st-george-scuttlebutt-blog/wp-content/uploads/2022/02/11165100/St.-George-Island-wedding-venues-main-2.png
1000
1500
Kyu Myoung
https://www.resortvacationproperties.com/st-george-island-guide/st-george-scuttlebutt-blog/wp-content/uploads/2016/02/logo_final-300x140.png
Kyu Myoung
2022-02-11 16:58:56
2022-02-11 17:03:09
Choose One of These Stunning St. George Island Wedding Venues for Your Destination Wedding