Get the adrenaline rush you've been longing for and rent St. George Island jet ski rentals to speed around the Gulf Coast with! You'll have a blast exploring St. George Island from a new point of view – out on the water! With SGI being a fantastic family vacation destination, you'll have a variety of options for fun on the water. 
And, when it's time to touch down on land, use our free Forgotten Coast Vacation Guide to help you choose attractions and things to do during your stay on our Florida coast. Our handy tool uses local insight to provide you with our favorite restaurants, shops, museums, entertainment, and outdoor recreation on St. George Island, Apalachicola Bay, and Eastpoint, Florida. Request your copy to take with you during your trip!

Where St. George Island Jet Ski Rentals Meet Waterfront Tiki Bar
Get your transportation for the day at the Jetski Hut! This jet ski rental company is conveniently located right next to Blue Parrot Oceanfront Café. After a couple of hours of St. George Island jet-skiing around the beach, you can return your jet ski and treat yourself to lunch and a drink! 
Things to Know About The Jet Ski Hut on St. George Island
Although we have beautiful weather all year-round in Florida, you would have to come during the spring and summer months between March through early October to take advantage of this sweet opportunity. 
You can find this jet ski rental company right on the beach daily between 10 a.m. and 6 p.m. Choose how long you'd like your water adventures to last before using either cash or card for your rental purchase. 
You can take your jet ski rental out for: 
30 Minutes 
1 Hour 
Half a Day 
Full Day 
Contact GI Rentals: (850) 927-5150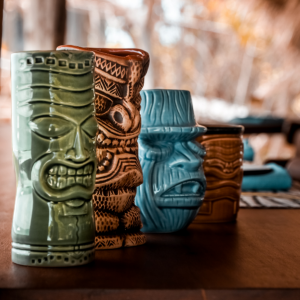 Refuel Yourself With a Meal at Blue Parrot Oceanfront Café & Tiki Bar
Indulge in the freshest local seafood and certified black Angus steaks to find out why Blue Parrot is one of our favorite St. George Island restaurants and bars. 
Eating at this restaurant is a must during your St. George Island vacay not only because of the delicious food, but it also has the best location right on the beach, accompanied by a fun, laidback atmosphere. 
Sit at the outdoor café and take in a warm summer breeze as you enjoy your lunch or dinner. A few of their top menu items include local flavors like smoked yellowfin tuna dip as an appetizer or their world-famous seafood platter for an entrée. This is a must for the seafood lover in your group because it contains grouper, shrimp, oysters, sea scallops, and a crab cake! Seafood City, for sure! 
Shooting for a little buzz? Try a fruity cocktail like their frozen mango daiquiri, a margarita, or a cold beer from their Blue Parrot Tiki Bar! 
Pro Tip: Try the St. George Island Breeze for a refreshing blend of citrus juice with cherry-infused vodka. Our favorite! 
Unwind After a Beach Day at the Best St. George Island, FL, Vacation Rental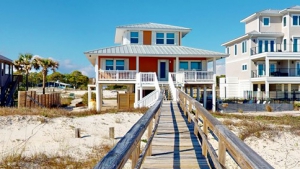 So many of our returning guests make their St. George Island vacation an annual tradition because of the fun beach memories and a wide variety of outdoor activities and water sports our area offers. Plus, we always aim to offer our guests the best hospitality and services so that you have the best vacation! 
All the sand, sun, water, and drinks can really drain you, but you'll realize it was all worth it when you enjoy the best night's rest in your Resort Vacation Properties vacation rental. 
Browse our selection of beautiful intimate or family-sized rentals near the beach for the ultimate adrenaline-inducing vacation on the Forgotten Coast! 
https://st-george-blog.nyc3.digitaloceanspaces.com/st-george-island-guide/st-george-scuttlebutt-blog/wp-content/uploads/2021/08/30150145/St-George-Island-jet-ski-rentals.png
903
1605
Kyu Myoung
https://www.resortvacationproperties.com/st-george-island-guide/st-george-scuttlebutt-blog/wp-content/uploads/2016/02/logo_final-300x140.png
Kyu Myoung
2021-05-05 13:48:24
2021-08-31 14:32:30
You Can Get St. George Island Jet Ski Rentals from This Bar!