Animals That Can Be Found On Your Walk Around The Estuary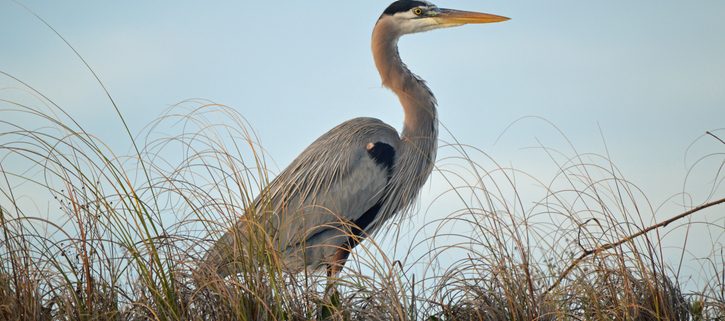 Florida is home to a variety of animals, and some of the species here are special to our area because of the estuaries and marine marshlands. St. George Island is a top destination for visitors who want to take a step back in time to enjoy a more pristine and natural island that's not built up. The strict building codes that keep this island as natural as possible make it ideal for visitors who want a glimpse of an endangered bird or sea turtles making nests. Taking an estuarine walk is a great way to catch a peek of the natural flora and fauna of St. George Island.
Birding Enthusiasts
Birdwatchers have documented almost 300 bird species on the island, making this a prime destination for birders. Some of these species include threatened and endangered birds. The time of year you visit can play a role in what you see because of neotropical raptors and birds that use it as part of their migration route, such as tanagers, hawks, buntings, warblers and falcons. Other birds found in this area include marsh hawks, egrets, bald eagles, osprey and herons. Four pairs of bald eagles that actively nest on the island could be spotted on your estuarine walk.
Reptiles and Amphibians
There are several reptiles and amphibians that call this area home. Some of the potential species you could see include the gopher frog, several types of salamanders, Eastern indigo snake and several turtle species.
Turtles can be a big draw to the area. Scientists believe there's a minimum impact on the turtles that nest on the island from the humans who live here and light pollution at night, but it's not enough to keep the turtles from returning to the area to the delight of residents. However, the turtle nests on Little St. George Island have to be protected from predators, such as coyotes.
Loggerhead, leatherback and green turtles have been found on beaches in the area. Hawksbill and Kemp's Ridley turtle also can be found in areas around the bay and other waters, but not by the beaches. Alligator snapping turtles also are here.
Mammals
St. George Island's estuaries also are home to a variety of mammals. You can possibly see manatees, Florida mice, two species of bats and raccoons.
You just never know what you may come across during your estuarine walk, and each day may bring something different. Contact us today to talk about booking your upcoming vacation to see all the species that can be found on our pristine island.
https://st-george-blog.nyc3.digitaloceanspaces.com/st-george-island-guide/st-george-scuttlebutt-blog/wp-content/uploads/2017/11/02034911/Great-Blue-Heron-standing-on-a-sand-dune.jpg
482
725
Ryan Miller
https://www.resortvacationproperties.com/st-george-island-guide/st-george-scuttlebutt-blog/wp-content/uploads/2016/02/logo_final-300x140.png
Ryan Miller
2017-11-21 10:23:39
2018-01-10 15:32:26
Animals That Can Be Found On Your Walk Around The Estuary