Dine in Paradise at Up The Stairs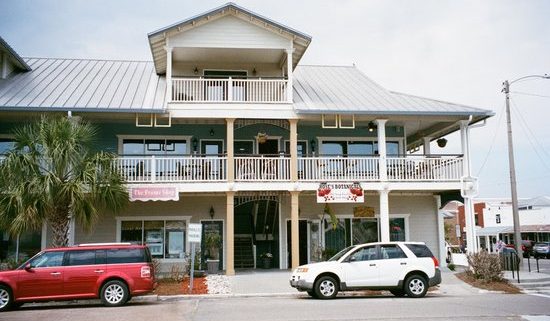 If you have small children, had small children, or have ever seen small children from a distance, you'll understand the desire to occasionally dine away from said children.
Don't get me wrong; I love kids (I even have some), but sometimes you just want to enjoy a meal without your kids… and without anyone else's kids either. Up the Stairs in Apalachicola gives you that opportunity.
But the real appeal at Up the Stairs isn't just the lack of children (that's just a bonus!).
Nestled above shops in the quiet fishing village's historic district, this fine dining establishment combines fresh seafood, exceptional service, extraordinary signature cocktails, and a growing wine list to create an unforgettable dining experience.
House favorites like the crab bruschetta and crawfish as well as the shrimp and sausage gumbo reflect the unique flavors of Up the Stairs, where the freshest ingredients meet in the most interesting combinations. Shrimp Sambuca, Petit Curry Pot, and beef carpaccio also make an appearance on this anything-but-ordinary menu.
Up the Stairs is situated right in the heart of the village, convenient to shopping, museums, and the waterfront. So it's a great place to refuel any time of the day or night. And if you're not quite up for the whole dining experience, you can always choose to eat in the lounge, where you'll find most of the same delicious dining room selections in smaller portions.
If you're spending time on The Forgotten Coast – taking advantage of all the hidden gems you can uncover in the calm of winter – don't miss Up the Stairs. The real star there is the food.
Or maybe the cocktails. Or the wine list. No, it's definitely the food. I can't decide; stop by for a bite yourself and let me know which one you decide.
Lunch and dinner served Wednesday through Saturday. Sunday brunch served 11am-3pm.
76 Market Street in Downtown Apalachicola.
https://st-george-blog.nyc3.digitaloceanspaces.com/st-george-island-guide/st-george-scuttlebutt-blog/wp-content/uploads/2017/11/02034914/getlstd-property-photo.jpg
364
550
AMG
https://www.resortvacationproperties.com/st-george-island-guide/st-george-scuttlebutt-blog/wp-content/uploads/2016/02/logo_final-300x140.png
AMG
2017-11-15 11:11:08
2018-01-10 15:23:10
Dine in Paradise at Up The Stairs