This Is the Perfect Weekend Getaway to St. George Island, FL

The sun is shining, the weather is warm, and the water is salty. Pack your bags and hit the road. It's time to plan the ultimate weekend getaway to St. George Island, FL! You'll be amazed by how much you can pack into a three-day visit to The Forgotten Coast. 25 miles of sandy shorelines set the scene for lazy beach days, searching for seashells, and splashing around in the ocean.  
Below, we outlined a thoughtful three-day itinerary for your mini-vacation to the Florida Panhandle. For even more suggestions for things to do during your visit, request a free copy of our Vacation Guide!  
Plan Your Dream Weekend Getaway to St. George Island, FL, in Three Days 
Day 1: Friday 
In the Morning
It's time to embark on a gorgeous road trip down to the Florida Panhandle. The views on the way out to St. George Island are truly remarkable. Before you drive off for your beach getaway, be sure to check your packing list and make sure you have everything you need for your weekend getaway!  
In the Afternoon 
Bring all your luggage inside and get settled into your home away from home! Before you do anything else, run down to the beach and stick your toes in the sand. Breathe in the salty air and appreciate this moment with your loved ones. Wind-swept hair is the greatest accessory while you're on vacation in Florida!  
In the Evening 
By now, you're probably going to be starving! You've had such a busy day traveling. It's time to grab a bite to eat. Seafood, anyone? Here are a few of our favorite dinner spots on the island:  
After dinner, return home to your comfortable lodgings to rest up before an eventful day tomorrow!  
Day 2: Saturday 
In the Morning
Wake up to the sound of the ocean roaring up the shore. Grab a cup of coffee and enjoy the beach views from your balcony overlooking the shoreline. Once you've had some time to wake up and eat breakfast, it's time to herd the family out the door for some fun!  
In the Afternoon 
You will have endless opportunities for family fun and adventure when you stay on St. George Island. Regardless of your interests, you'll find no shortage of things to do. Here are a few suggestions to consider:  
In the Evening
After a busy day, it's time to unwind. Leave the kids at home with a designated babysitter and check out some of the local watering holes!  
Day 3: Sunday 
In the Morning
If you wake up to a cloudy sky, don't fret. We have just the solution! There are so many fun things to do on St. George, even when it's raining! Here are a few ideas to keep in your back pocket for a rainy day:  
Have a spa day 

 

Stay in and watch a movie 

 

Play some games (many rentals have board games and puzzles)

 

Cook up something delicious 

 

Get crafty 

 
In the Afternoon 
Spend your last day exploring more of the island. If the sun is shining, get outdoors! There are so many wonderful ways to stretch your legs, witness the beauty of the island, and spend quality time with your family and friends. Rent a bike and cycle around the island. Try out a new-to-you water activity. Or, simply go for a hike!  
In the Evening
It's your last night on The Forgotten Coast! End your weekend getaway with an unforgettable meal at one of the best restaurants on the island. End the evening with a tasty treat from Aunt Ebby's Ice Cream Shop! This crowd favorite has been serving huge scoops and friendly service since 1993.  
Resort Vacation Properties Set the Scene for Your Florida Beach Vacation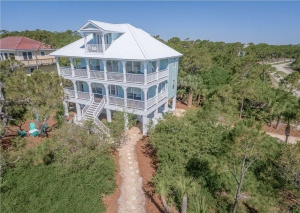 Make the most of your weekend getaway to St. George Island, FL, when you stay in a beautiful Resort Vacation Properties rental. Our homes are the perfect home base for you and your family during your visit to The Forgotten Coast. Enjoy top-notch amenities such as fully equipped kitchens, comfortable furnishings, and breathtaking views of the ocean. Upon your arrival, you will find a welcoming package of starter supplies with coffee filters, hand soap, paper towels, toilet paper, dishwasher soap, and garbage bags.  
We can't wait to host you!  
https://st-george-blog.nyc3.digitaloceanspaces.com/st-george-island-guide/st-george-scuttlebutt-blog/wp-content/uploads/2021/08/30145859/child-on-beach-with-sand-toys.jpg
1414
2121
Kyu Myoung
https://www.resortvacationproperties.com/st-george-island-guide/st-george-scuttlebutt-blog/wp-content/uploads/2016/02/logo_final-300x140.png
Kyu Myoung
2021-08-21 13:40:16
2021-08-31 14:48:01
This Is the Perfect Weekend Getaway to St. George Island, FL